Pretty Good MahJongg
Mac Edition
Play Solitaire and Puzzle Games with MahJongg Tiles!
Be prepared for hours of fun with Pretty Good MahJongg Mac Edition, the premiere collection of MahJongg solitaire games.
With Pretty Good MahJongg Mac Edition you can play all kinds of different solitaire and puzzle games with MahJongg tiles.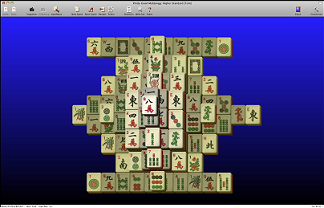 Play the classic MahJongg tile matching solitaire game, where tiles are removed in pairs. Pretty Good MahJongg Mac Edition has 300 different tile matching game layouts, from simple and easy layouts to difficult challenges. Pretty Good MahJongg Mac Edition makes it easy to play with adjustable color highlighting and right click hints.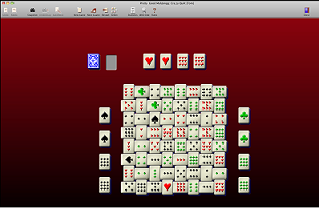 MahJongg Crazy Quilt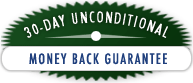 Windows Pretty Good MahJongg registered users - click here to get a coupon code worth 50% off the purchase price of Pretty Good MahJongg Mac Edition.

Download the 30 day trial version.
Version 2.02 - September 25, 2012
5.9 Megabytes
For Mac OS X 10.4 or later
Works on Snow Leopard, Lion, or Mountain Lion
100% Clean
Our downloads contain only our games and no other software. No files other than those required to run our games are installed.
Subscribe to our Newsletter
Sign up for the free Goodsol email newsletter. Enter your email address below, and then click the Subscribe button. Your email address will be kept confidential, and it will only be used to send you our free newsletter.
Play Original Solitaire Games or Classic Puzzle Games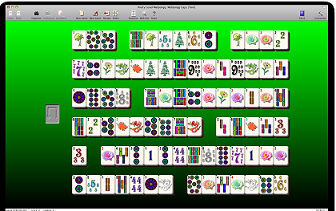 But there is much more. Pretty Good MahJongg Mac Edition contains 55 additional solitaire and puzzle games.
You can play original new MahJongg solitaire games such as MahJongg Spider, MahJongg Klondike, and MahJongg FreeCell. These games are inspired by solitaire card games, but played with MahJongg tiles.
You can also play other puzzle games, such as Crazy Quilt, MahJongg Gaps, and Pyramid of Wild Dragons.
30-Day Unconditional Money Back Guarantee
Ordering Pretty Good MahJongg is risk free! Our order pages are on a secure server. Feel secure in ordering from an established company that's been doing business on the internet since 1995.
The 300 tile matching layouts and 55 mahjongg solitaire games are only US$24.95.


For an additional US$7.50 shipping you can receive our CD-ROM that will install the latest version and all currently available tile sets (these are extra downloads from the web site, but they are included on the CD-ROM).


Paid users can submit their scores to the web site. Scores are updated immediately.


We offer an unconditional 30-day money-back guarantee! If for some reason you are not satisfied, you can return Pretty Good MahJongg for a full refund.


We never sell or give your personal information to anyone.



US $24.95 - optional $7.50 for CD

Thanks for giving Pretty Good MahJongg Mac Edition a try!
Sincerely,
Thomas Warfield
President
Goodsol Development, Inc.


P.S. If you aren't ready to buy yet, download our free 30 day trial of Pretty Good MahJongg Mac Edition.

Screenshot of MahJongg FreeCell